I am trying to be healthier with my breakfast choices, since I have often been skipping breakfast or grabbing something not so good for me. This Thermomix Coconut Spelt Porridge is not only delicious and nourishing, but so quick and easy to make.
Thermomix Coconut Spelt Porridge
160g rolled spelt
400ml tin coconut cream
450ml water
Place all ingredients into thermomix bowl.
Cook for 11 minutes/ 100C / Speed 2 / Reverse
Serve with toppings of choice – I used frozen mango chunks, and a combo of chopped almonds, cashews and shredded coconut.
serves 4, but I make this just for me, and store the leftovers in the fridge for quick brekkies over the following few days!
Stovetop instructions: combine all ingredients in a medium pan, and bring to the boil. Simmer, stirring frequently, for 10-15 minutes until cooked and creamy.
Linking to: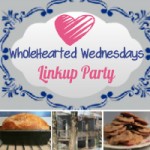 Hope In Every Season's Homemaking Party