This meatloaf recipe has been in my family forever, and is listed in my mum's recipe notebook as Meatloaf No 2, although whatever happened to Meatloaf No 1 is unknown!! This has always been a real favourite of mine, and it pleases me no end that it is now a favourite of my son as well! This recipe takes just minutes to prep, and then the oven does all the work, so is great for busy nights.
Plum Glazed Meatloaf
Glaze:
2 tbsp sugar
3 tsp dry mustard
3 tsp curry powder
2 tbsp oil
2/3 cup plum jam
Meat Loaf:
750g beef mince (ground beef)
1 packet french onion soup mix
2 eggs
1 tbsp flour
1 tbsp soy sauce
Preheat oven to 230C/475F.
Put all glaze ingredients into a small pan and stir over low heat until sugar dissolves.
Put all meat loaf ingredients into a medium bowl and mix until well combined.
Put meat loaf mix into a large loaf pan, then pour over glaze.
Bake in 230F/475F oven for 20 minutes, then reduce heat to 180C/350F and bake for a further 25 minutes.
Serve with mashed potato and steamed veg.
Notes:
you can also shape the meatloaf into a loaf shape on a casserole dish and bake this way.
Linking to: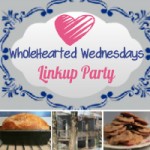 Hope In Every Season's Homemaking Party