More cool weather meant more yummy comfort food, this week a Raid the Fridge Chicken Soup. This soup came together when I was cleaning out the fridge and realized that I had some fresh lasagna noodles and a zucchini left over from the turkey lasagna the other night, as well as a leek that was rapidly starting to look limp. Adding in basics such as carrots and celery that are usually in my fridge, together with frozen homemade chicken stock and shredded chicken meant that not only was a hearty chicken soup on the table in less than half an hour, it also used up things that would have easily ended up in the bin.
Raid The Fridge Chicken Soup
1.5 L chicken stock, thawed if frozen
400g cooked shredded chicken
2 tbsp olive oil
1 leek, rinsed well and finely sliced
2 carrots, grated
1 large zucchini, grated
4 sticks celery, finely sliced
4 sheets fresh lasagna
chopped parsley (optional)
In a medium stockpot or large saucepan, bring chicken stock and shredded chicken to the boil.
Heat oil in a medium frypan over medium heat and saute leeks until soft and golden.
Add carrot, zucchini and celery and saute for 2-3 minutes until softened. Add to chicken stock.
Roughly tear the lasagna sheets into small pieces and add to pot. Cook for 3 – 4 minutes until pasta is done to your liking (we like it al dente). Season with salt and pepper
Serve with parsley if desired.
Notes:
if you don't have cooked shredded chicken stashed in your freezer (and if not, why not?!), cook two skinless chicken breasts in the chicken stock for about 15 minutes at a simmer with the pot covered. Remove, allow to cool slightly, and then shred.
you really could use any vegetables you have lying around. Sub in onion instead of leek, cabbage instead of zucchini, etc.
I grated the veggies for two reasons; firstly, to make the soup super quick cooking, and secondly, the kids can't avoid them like they may do with larger chunks.
Linking to: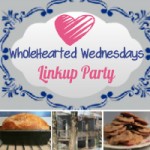 Hope In Every Season's Homemaking Party