The weather is finally becoming cooler here in Perth, so warming comfort foods seem much more appealing, and this Cheesy Turkey and Vegetable Lasagna really fits the bill. While there is a fair bit of cheese in this, it is also chock full of veggies, and the kids loved it, so on balance, I call it a winner!
Cheesy Turkey and Vegetable Lasagna
2 cans condensed Cream of Chicken Soup
1 1/2 cups milk
1 kilo (2lbs) ground turkey breast
1 large onion, finely chopped
2 cloves garlic, minced
2 large zucchini, chopped
2 large red capsicum (pepper), chopped
1 punnet sliced mushrooms
2 cups low fat mozzarella, grated
1 tbsp dried Italian herbs
1 packet fresh lasagna noodles
Preheat oven to 180C/350F. Stir together soup and milk in a small bowl.
Saute the turkey, onion and garlic together in a large frypan on medium heat for 5 minutes, breaking up clumps of ground meat.
Add the remaining vegetables and continue to saute on medium heat until turkey is cooked and vegetables are tender, another 5 minutes.
Stir in 1 1/2 cups of the cheese and the dried herbs.
Spread 1 cup of soup mixture in the bottom of a 9 x 13″ baking dish.
Top with a single layer of lasagna noodles (uncooked), cutting them to fit, followed by 1/2 of the turkey mixture and 1 cup of the soup mixture.
Repeat layers, then top with one more layer of lasagna noodles. Spread remaining soup mixture over top.
Cover baking dish with foil, and bake for 30 minutes. Uncover, sprinkle with remaining cheese, and then bake for 15 more minutes until cheese is melted and starting to brown.
Linking to: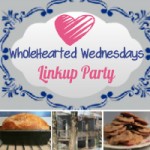 Hope In Every Season's Homemaking Party